Here's a dish that is the South Indian variant of the North Indian suji ka halwa. Meet Kesari Recipe – a popular, delicious South Indian sweet dish made with rava or suji (cream of wheat or semolina), sugar, ghee (clarified butter), saffron, nuts and dry fruits. This melt-in-mouth, orange colored preparation is also referred to as Rava Kesari Recipe. Make this decadent sweet treat with my simple recipe that I have shared with step-by-step pictures and video.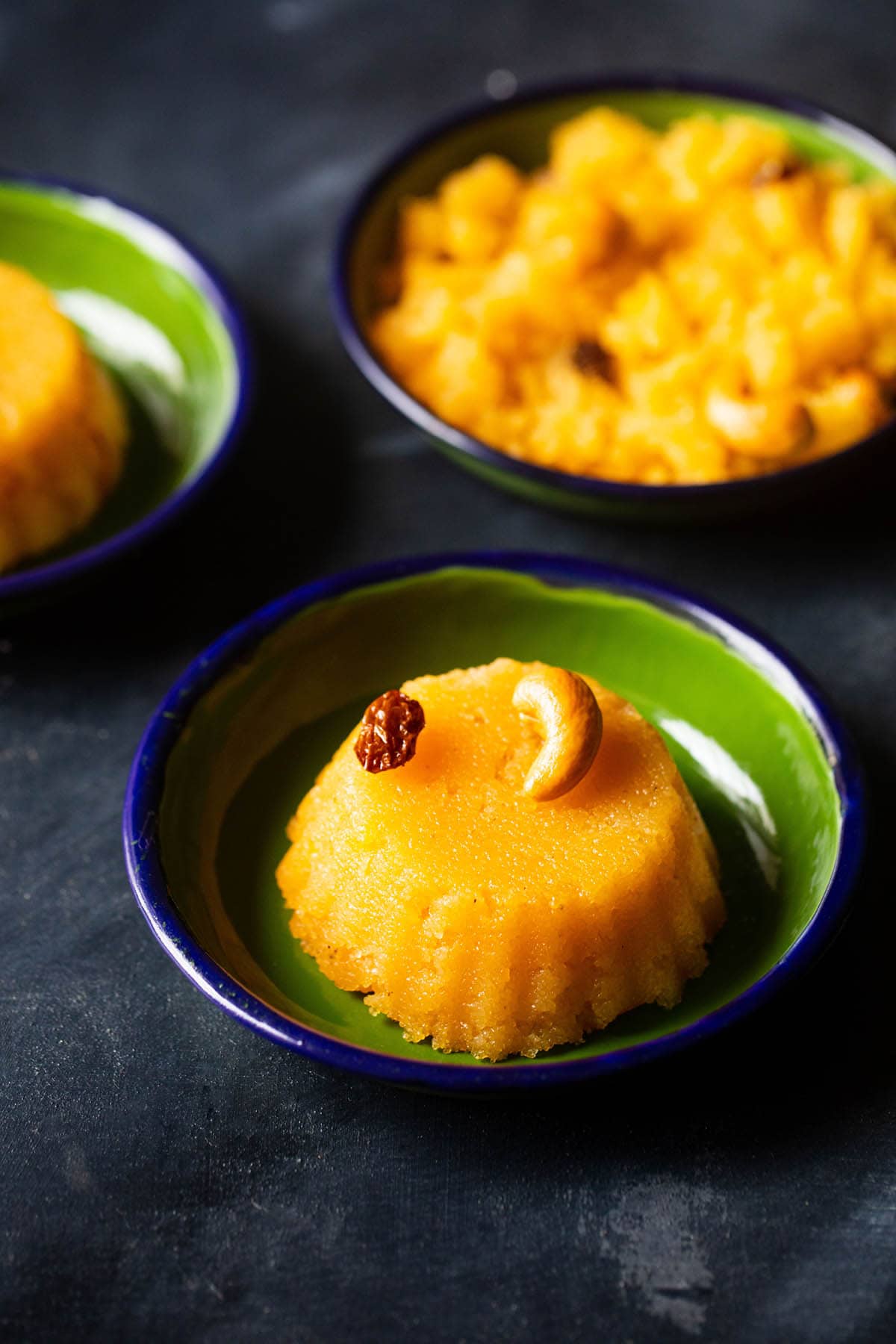 About Kesari Recipe
Kesari is a pudding like sweet that is good to look at as it is to eat. To make this delicious sweet dish the rava is roasted/toasted in ghee until the fine rava granules become fragrant and change color.
Later a bubbling hot sugar syrup is added to the well roasted rava and this mixture is cooked further until it thickens and all the water has been absorbed. Lastly green cardamom powder and fried cashews, raisins are added for more flavors.
Kesari Recipe is common during festivals as well as poojas, auspicious occasions or any other celebrations in South India. It is also made and offered to the deities in many temples in South India.
In Hindi, 'rava' is known as 'sooji' and in English, it is known as 'semolina or cream of wheat.' The word 'kesari' means an orange or yellow color and in some instances also means 'saffron' that is 'kesar' in Hindi. So, basically Rava Kesari Recipe is an orange hued dessert of semolina pudding flavored with saffron.
So, the main ingredients in this Kesari Recipe are rava, ghee, sugar, water and saffron or orange food color. The recipe is quite simple, if you follow it well and will not give you sleepless nights too!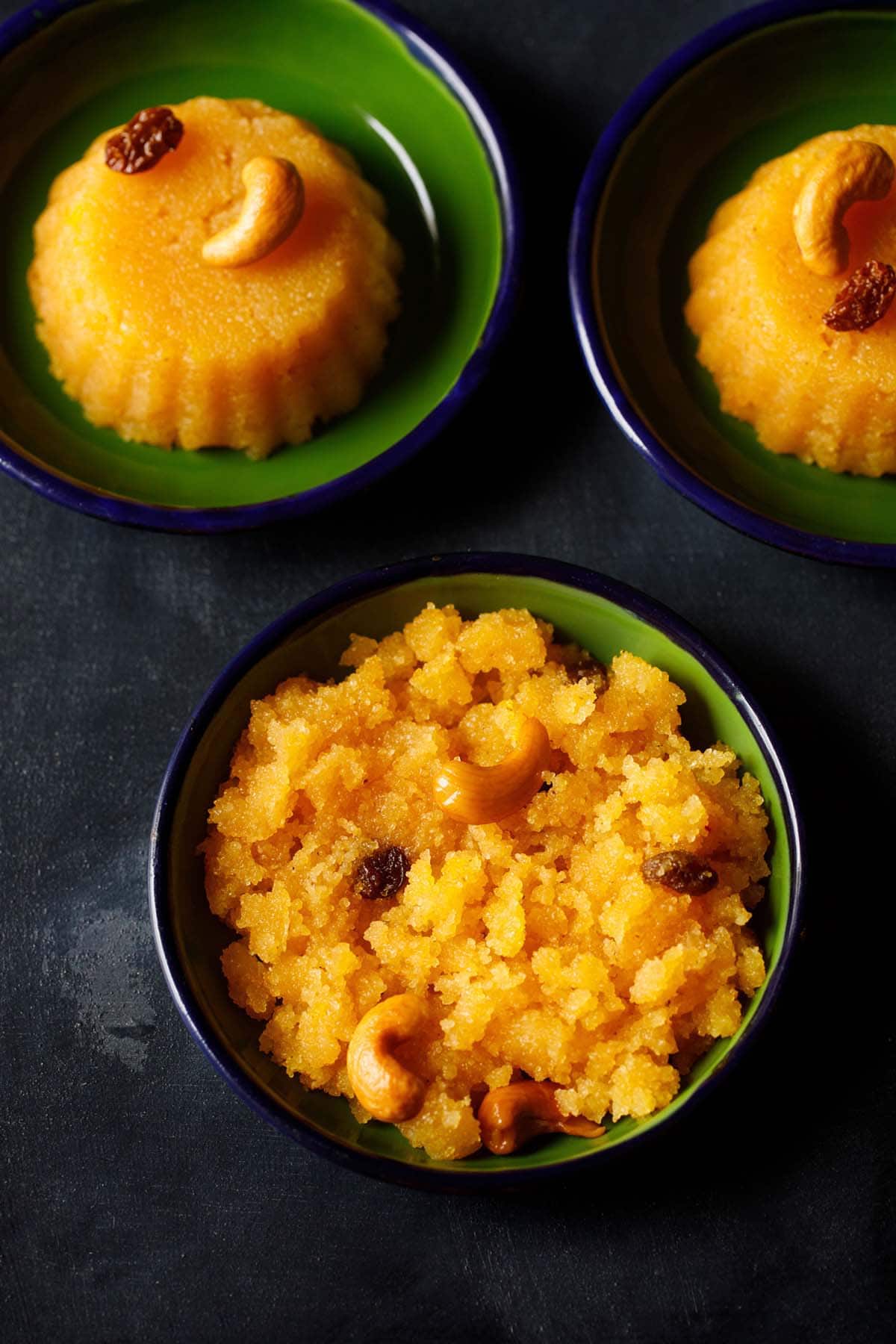 Rava Kesari vs Suji Halwa
Like I mentioned in the beginning, the North Indian counterpart of Kesari Recipe is Suji Ka Halwa, an equally popular and delectable dessert. In Maharashtra and Gujarat, this same dish is called as sheera.
However, there are some more variations in the preparations of sooji halwa, sheera and Rava Kesari recipe. The difference between this Kesari Recipe and suji halwa or sheera is majorly the color.
Sheera and suji halwa are not yellow or orange colored. Also, more quantity of ghee and sugar are used in the South Indian style Rava Kesari Recipe as compared to sooji halwa or sheera.
In Karnataka, Kesari Recipe variant is called as Kesari Bath. For breakfast, both Khara Bath (uppittu or upma) and Kesari Bath are served together. This is a famous combination called as Chow Chow Bath there.
About My Recipe
Like I said earlier, Kesari Recipe has a typical orange color. Usually, synthetic orange food color is added in it. Since I don't use any synthetic colors in food, I use saffron and a natural orange color extract to bring in the orange hue. Remember that the addition of only saffron will give yellow tones and not orange.
In addition to the color, saffron gives a nice flavor and aroma as well in the Kesari Recipe. If you want orange tones, then add orange food color. I suggest using a natural orange color or natural yellow color extract.
Addition of ghee and sugar can always be minimized in my Kesari Recipe, while you are making it at home. In this recipe, I have added slightly less quantities of both ghee and sugar. But feel free to add more sugar or ghee according to your preferences.
I often prepare this traditional sweet as naivedyam for the deities or during Indian festivals like Ganesh Chaturthi, Navratri, Janmashtami, Ugadi and Diwali.
Step-by-Step Guide
How to make Kesari Recipe
Fry Cashews and Raisins
1. In a heavy kadai or a thick bottomed frying pan, take 6 tablespoons ghee.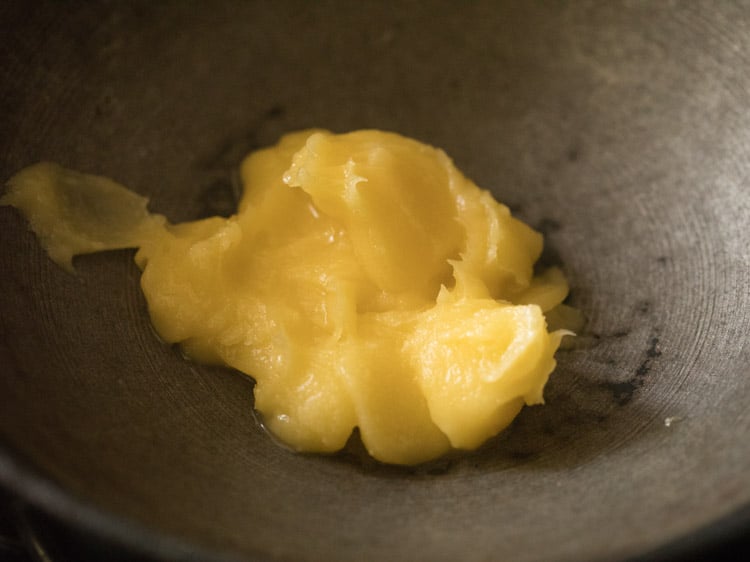 2. Heat ghee on medium-low heat till it melts completely.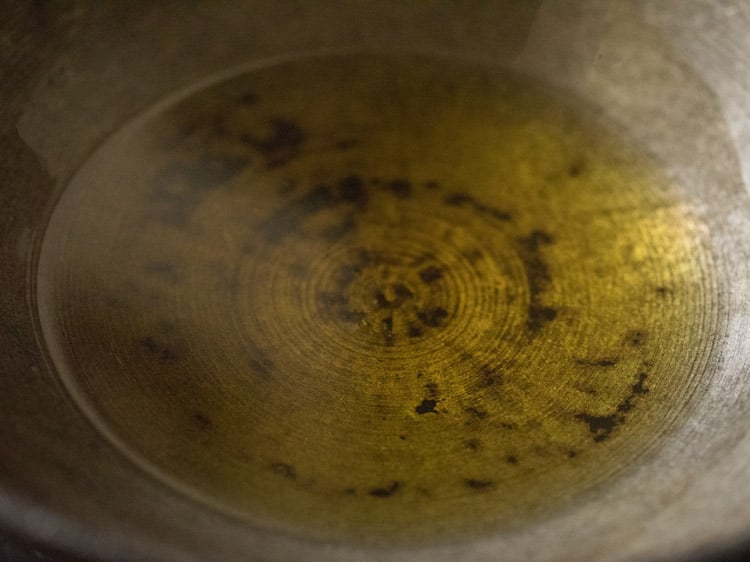 3. Add 3 to 4 tablespoons cashews.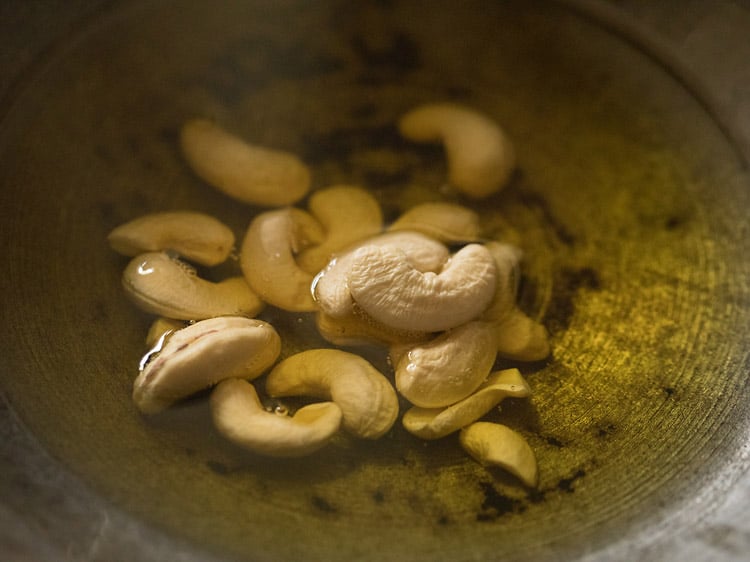 4. Begin to fry cashews, stirring them often.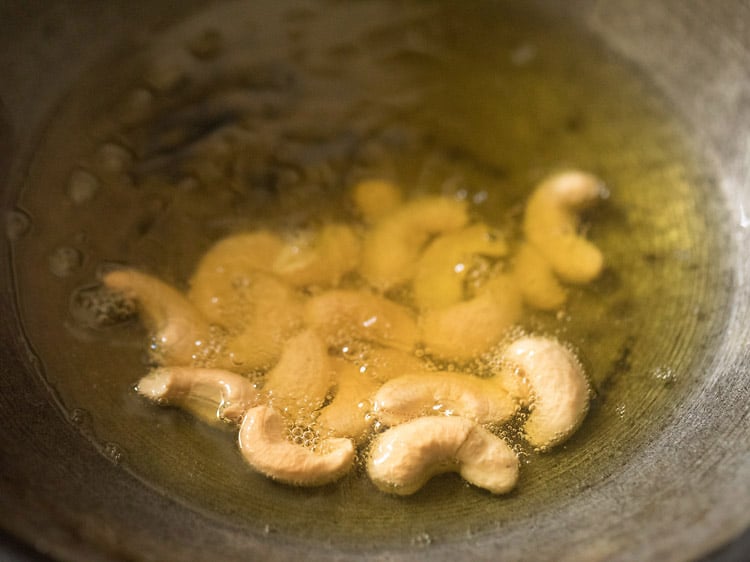 5. Fry cashews till golden. Remove with a slotted spoon and keep aside on kitchen paper towel or in a plate.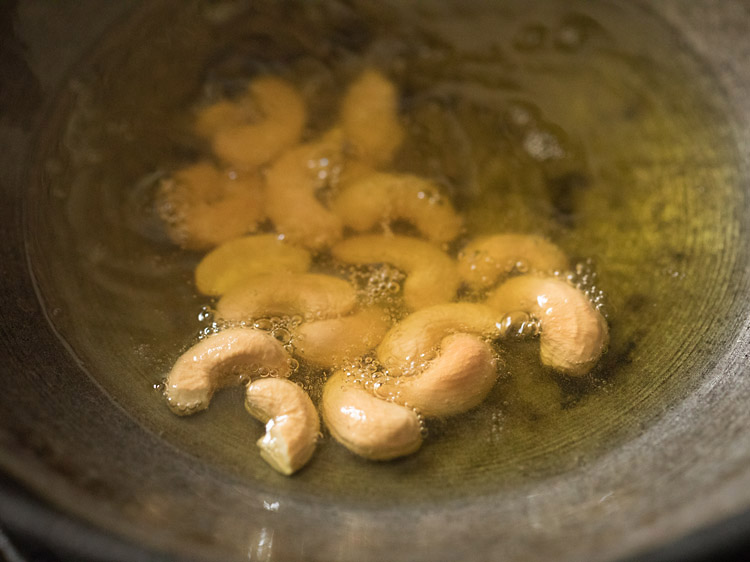 6. Next, add 1 tablespoon raisins in the hot ghee.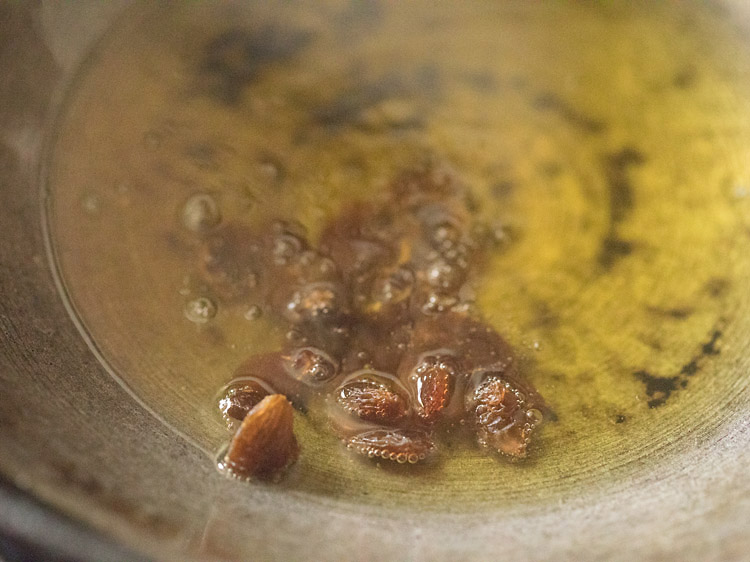 7. Stirring continuously, fry the raisins.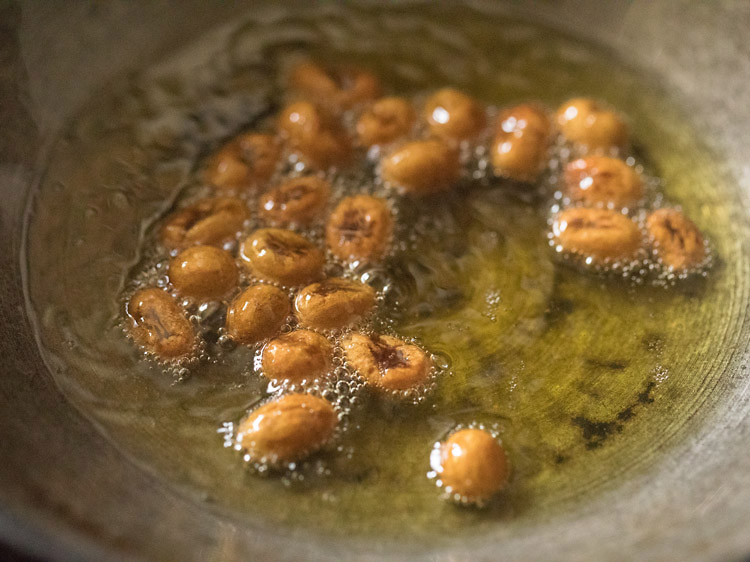 8. The raisins will become plump and swell.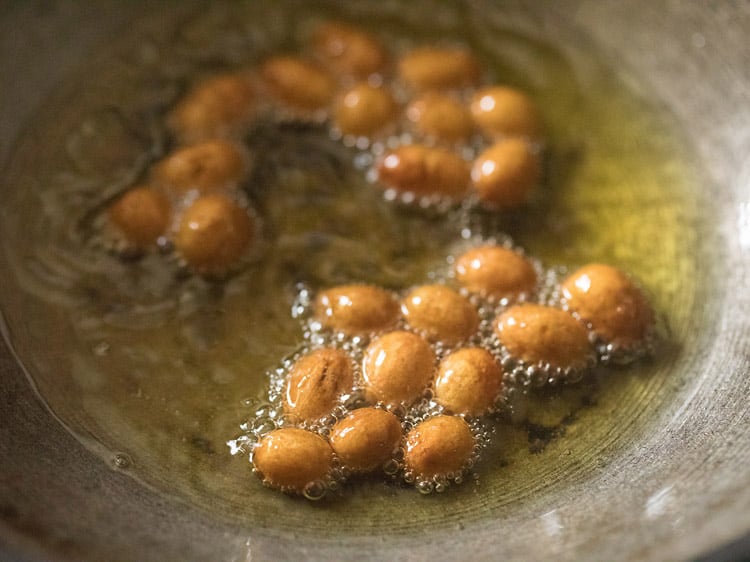 9. As soon as the raisins become plump, remove them and keep aside along with the fried cashews.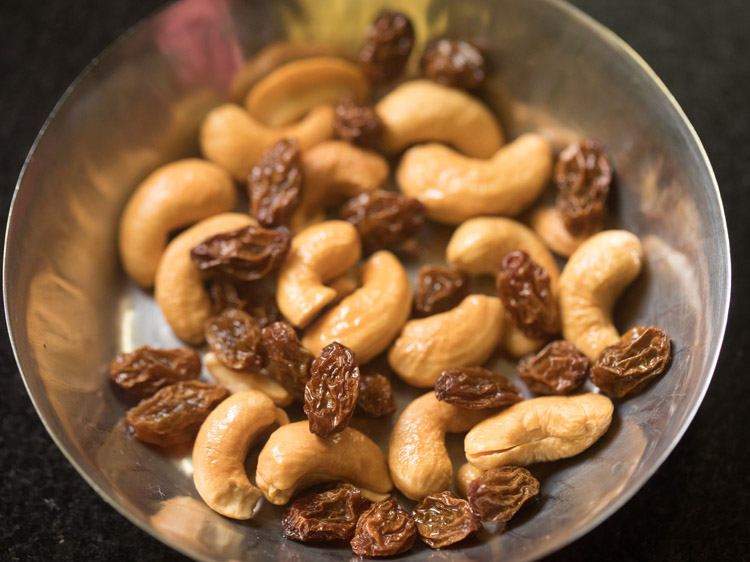 Roast Rava
10. Reduce heat to low and add 1 cup (160 grams) fine rava to the ghee.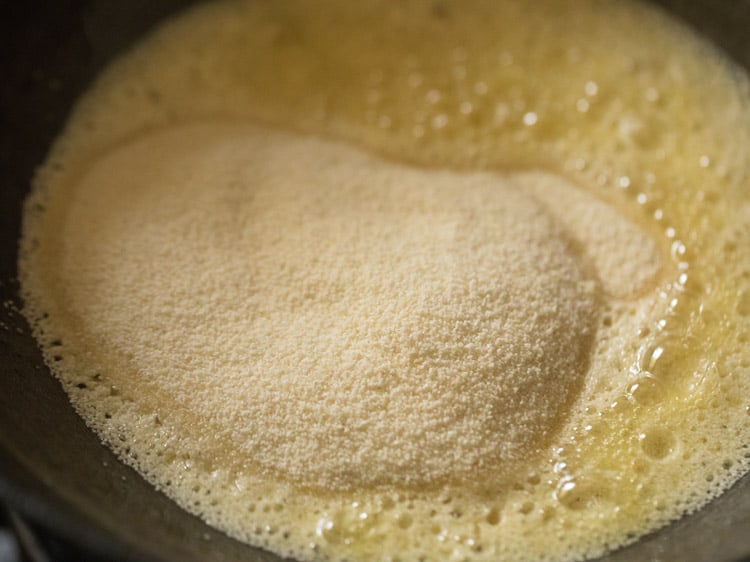 11. Combine and mix the rava with the ghee.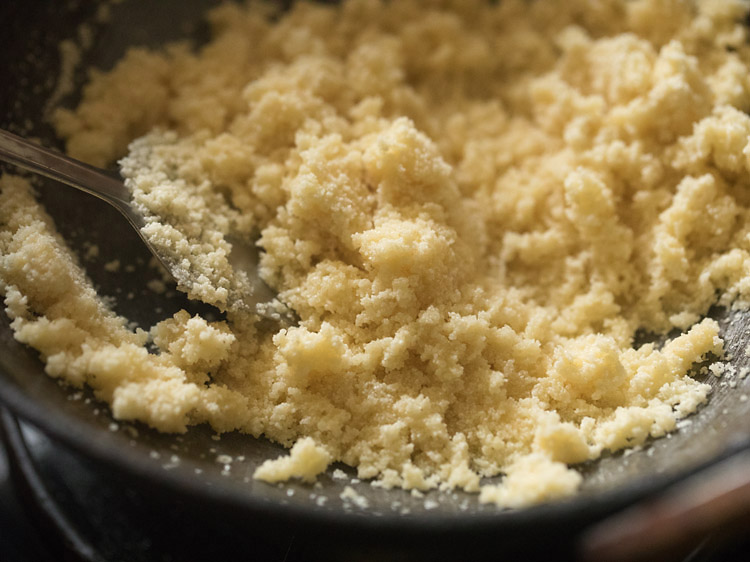 12. Begin to roast rava on low to medium-low heat. Stir often so that rava roasts evenly.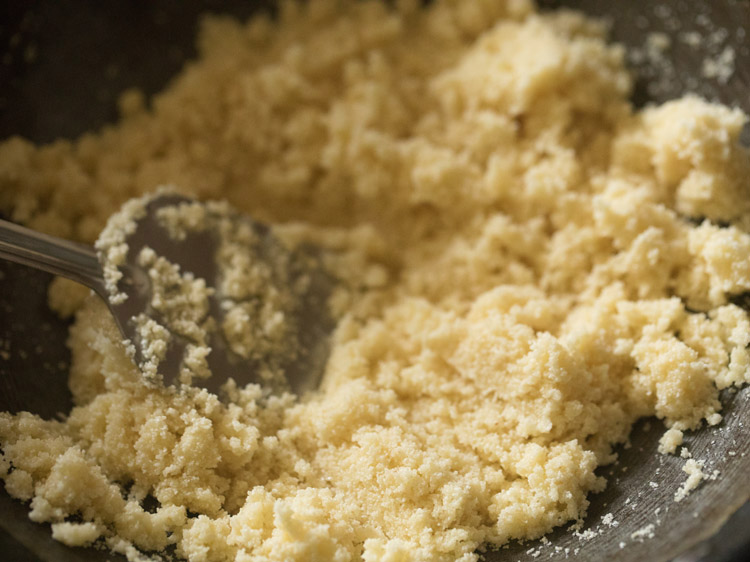 13. Stir frequently, while roasting rava, for even cooking.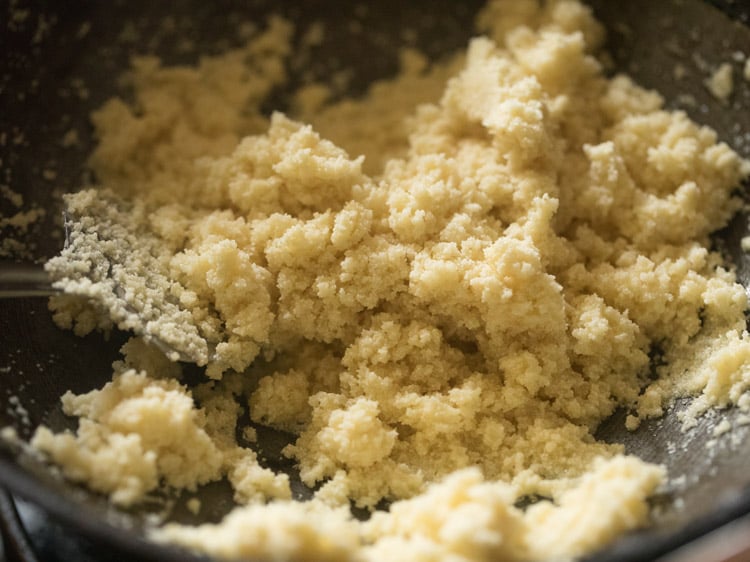 14. The color of the rava should not become brown. Roasting rava takes about 9 to 11 minutes on low to medium-low heat.
Timing will vary with the type and make of the kadai or pan and the heat intensity.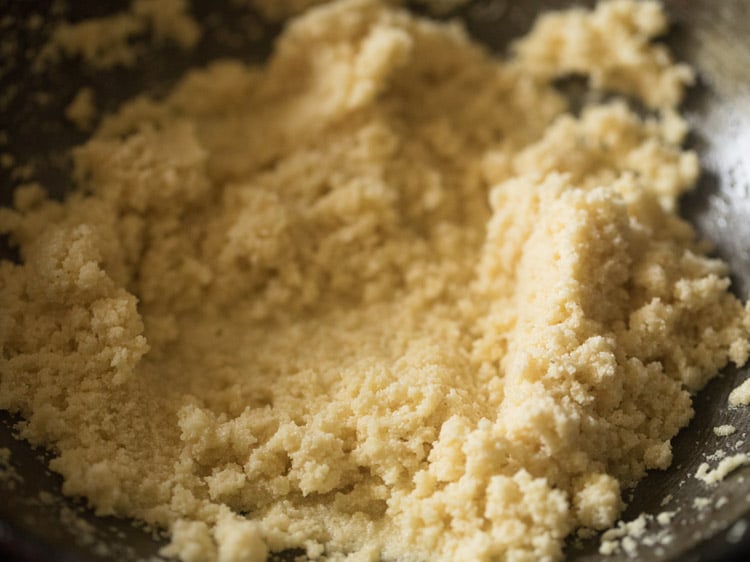 15. Roast till you can see the ghee getting separated and the color of rava will also change. A nice aroma will also emanate from the roasted rava.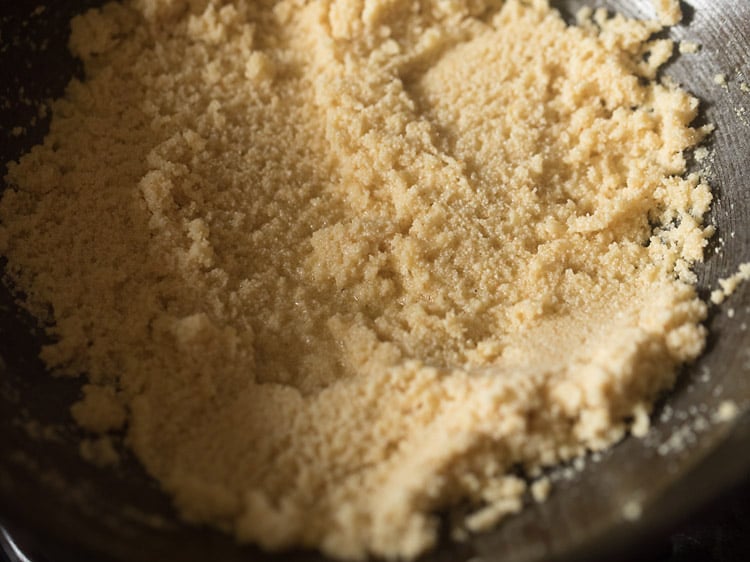 Make Sugar Syrup
16. When you begin to roast rava, at that time, take ¾ cup (190 to 200 grams) sugar in a saucepan. The sugar syrup needs to be cooked simultaneously while roasting rava.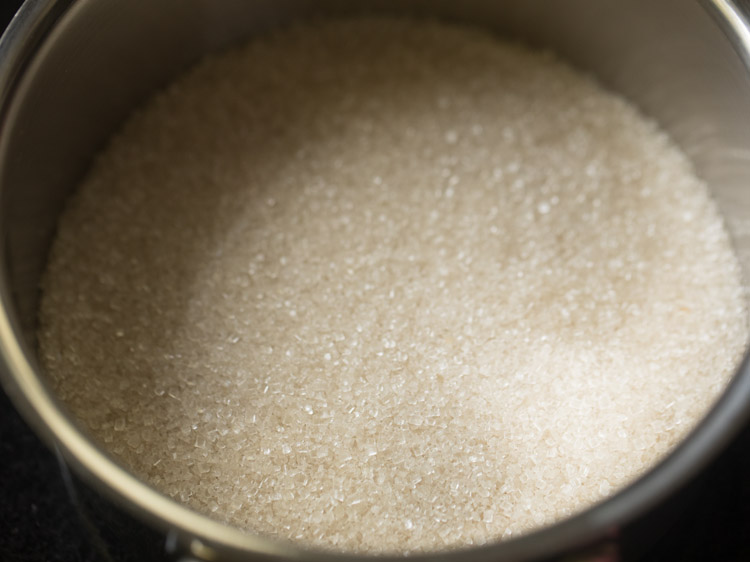 17. Add 2 to 3 pinches of saffron strands.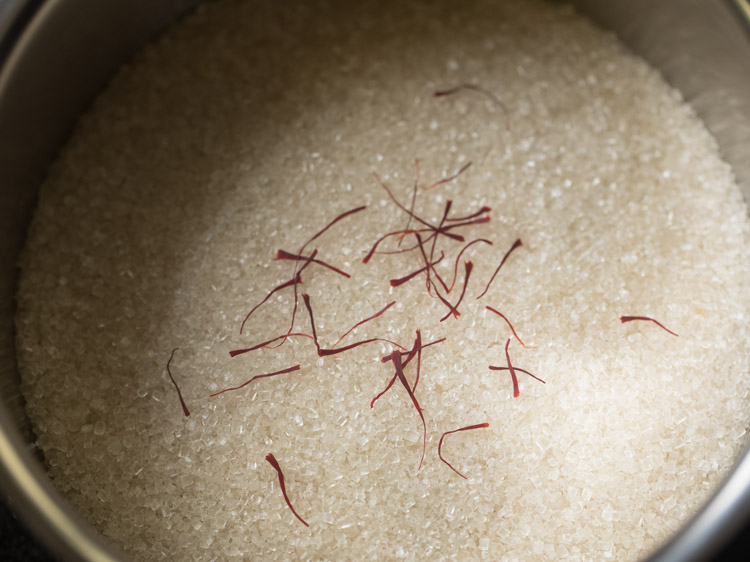 18. Add 2.5 cups water. Optionally, you can also add a natural yellow or orange color extract. I added 2 drops of natural orange color extract.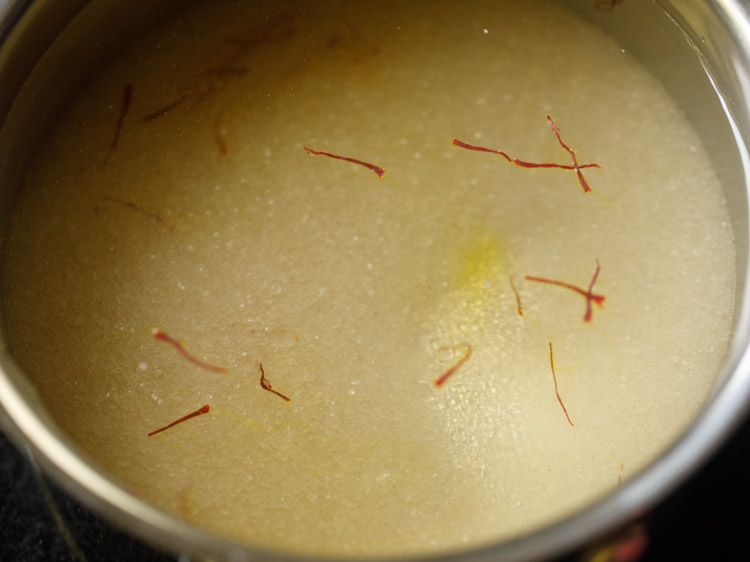 19. Keep the pan on stovetop and on medium to medium-high flame, begin to heat the sugar solution.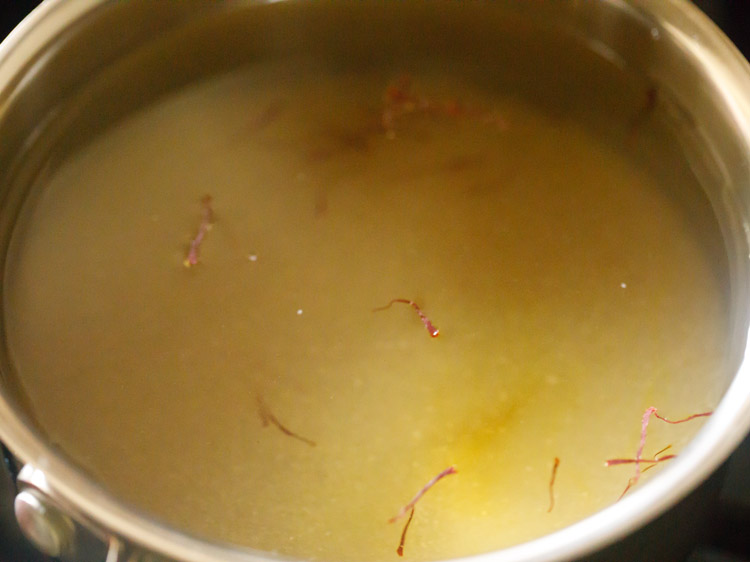 20. When you keep the pan on the stovetop for heating, at that time, stir with a spoon so that all the sugar is dissolved.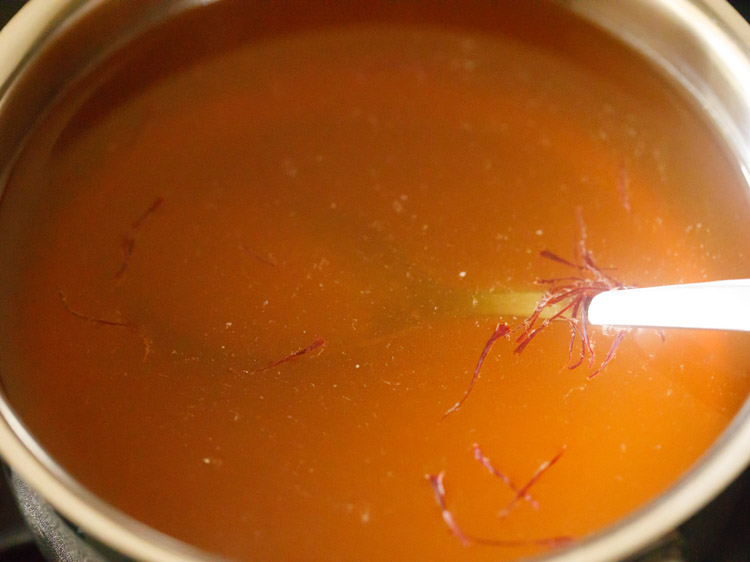 21. Bring this sugar syrup to a rolling boil.
In case the sugar syrup has come to a boil, but rava has not yet roasted, then reduce the heat to low and simmer the sugar syrup for a couple of minutes. So that it stays hot.
However, do not simmer for a long time as then the sugar consistency will change and the syrup can become sticky or have the sugar thread consistencies.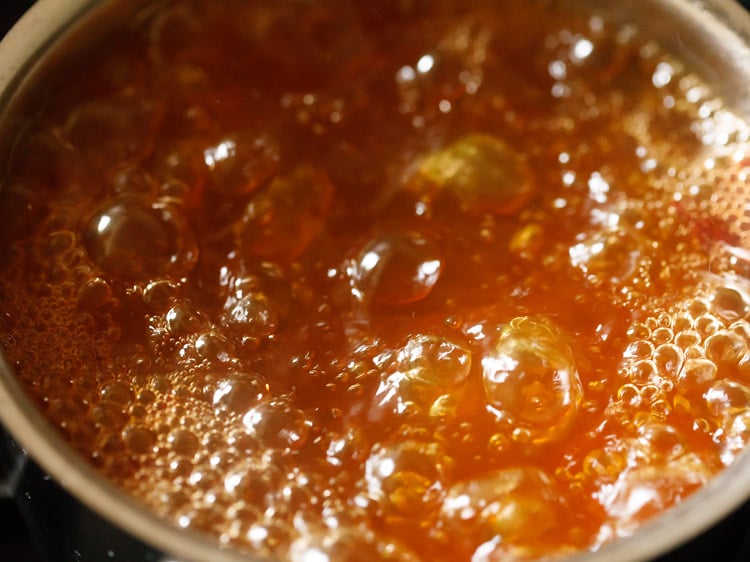 Make Kesari Recipe
22. By the time the sugar syrup starts boiling, the rava will also get roasted well.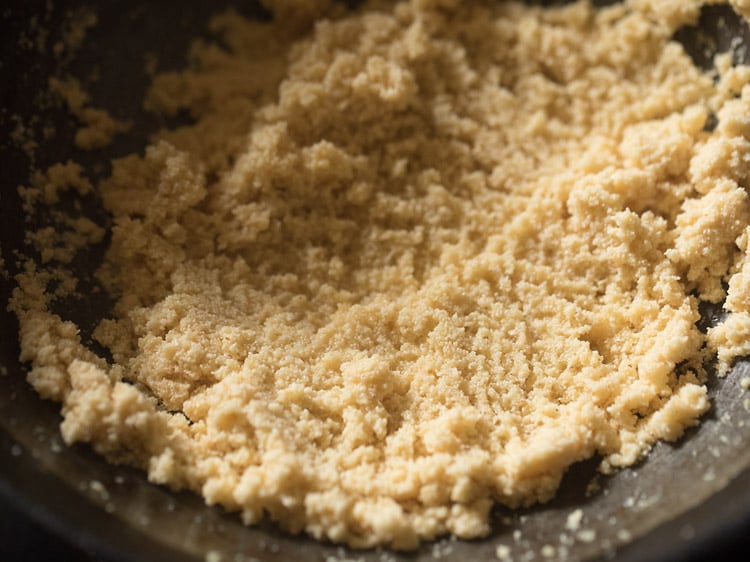 23. Lower the heat and carefully pour the prepared sugar syrup in the hot ghee-rava mixture in a steady and slow stream.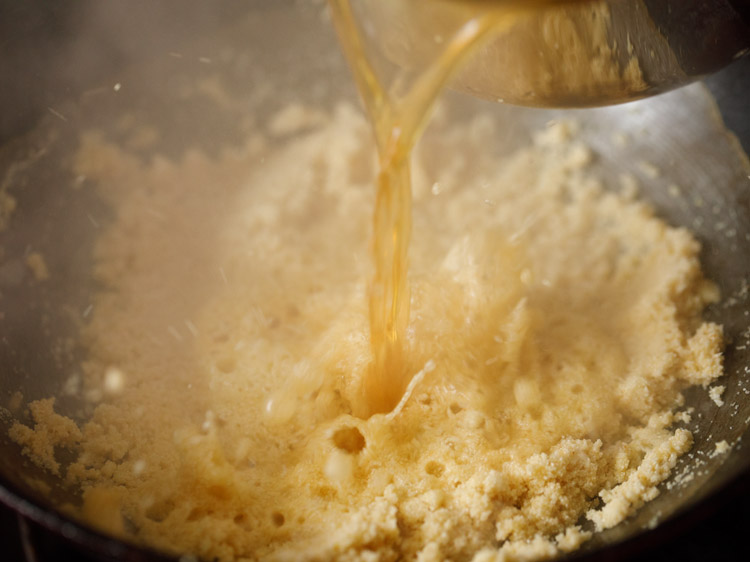 24. Take care while pouring as the mixture splutters.
In this Kesari Recipe, lumps are not formed as the quantity of water is more. In case if lumps form, then just break them with the spatula or spoon.
25. Stir and mix very well. Break lumps, if any, while mixing.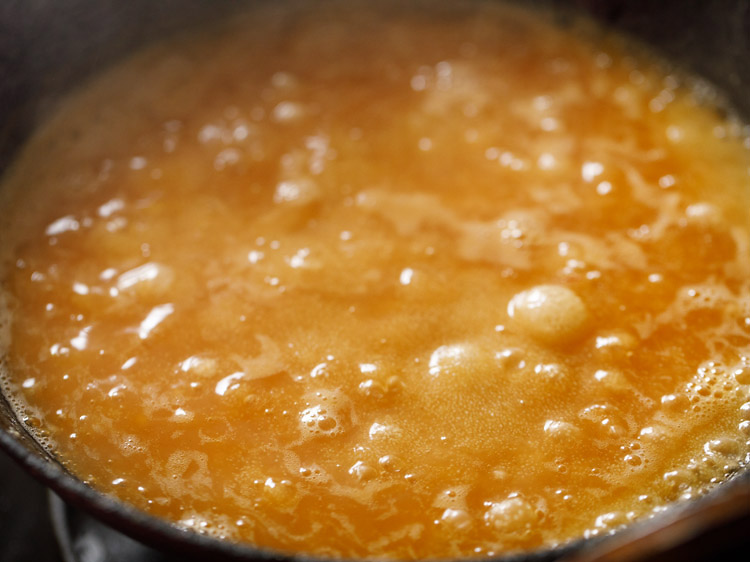 26. Cook the mixture on low to medium-low heat, stirring often.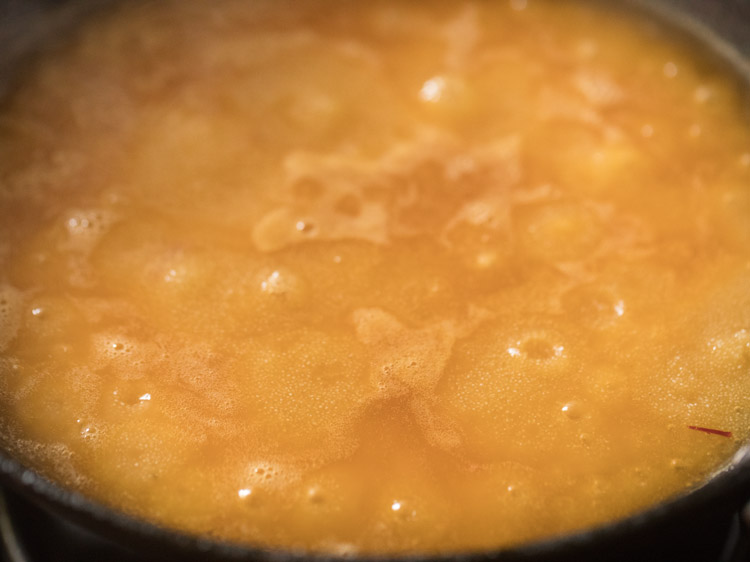 27. The rava will absorb the water and swell and the mixture will begin to thicken. It will be soft and moist and the consistency will be like that of smooth pudding.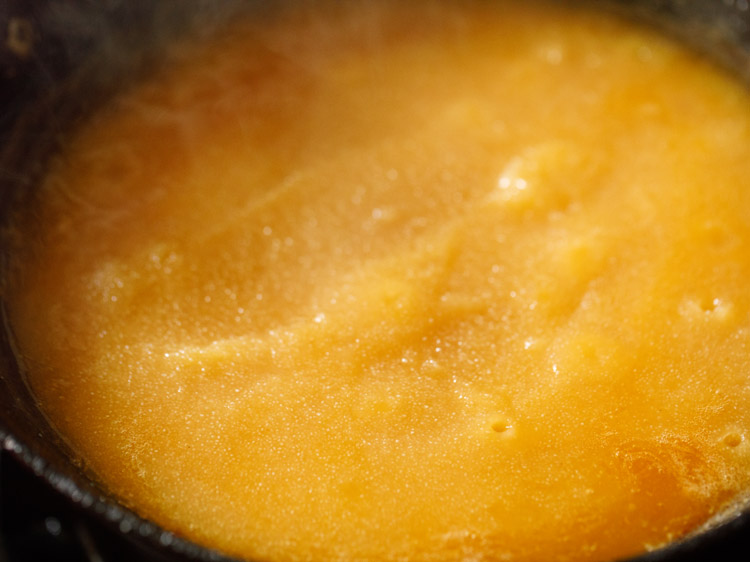 28. When the mixture starts thickening, add the fried cashews and raisins, reserving a few for garnishing.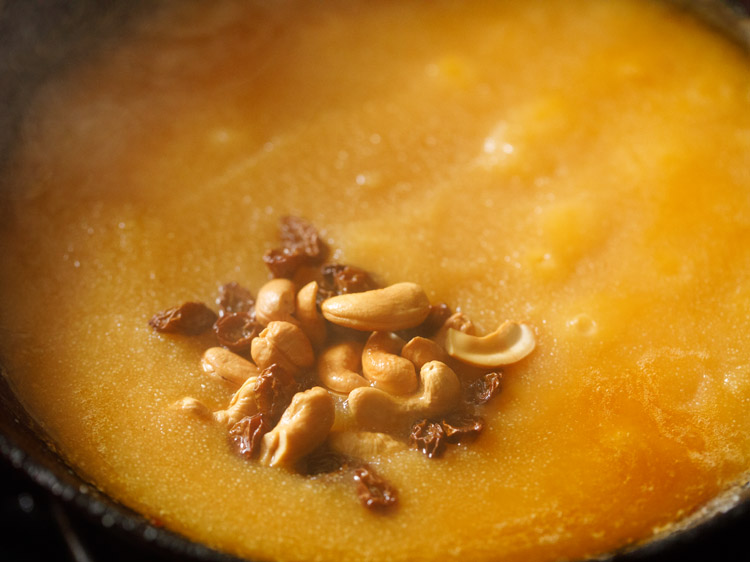 29. Also, add ½ teaspoon green cardamom powder.
At this step, you can also add a pinch of edible camphor, if you want.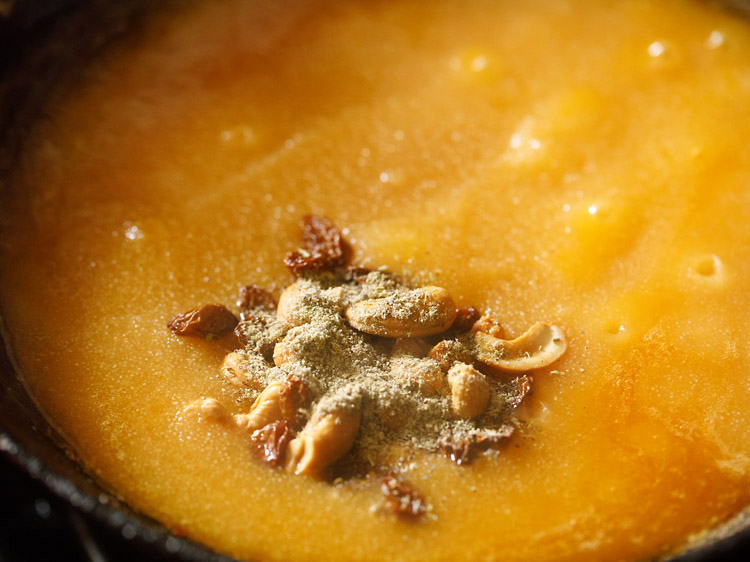 30. Mix very well.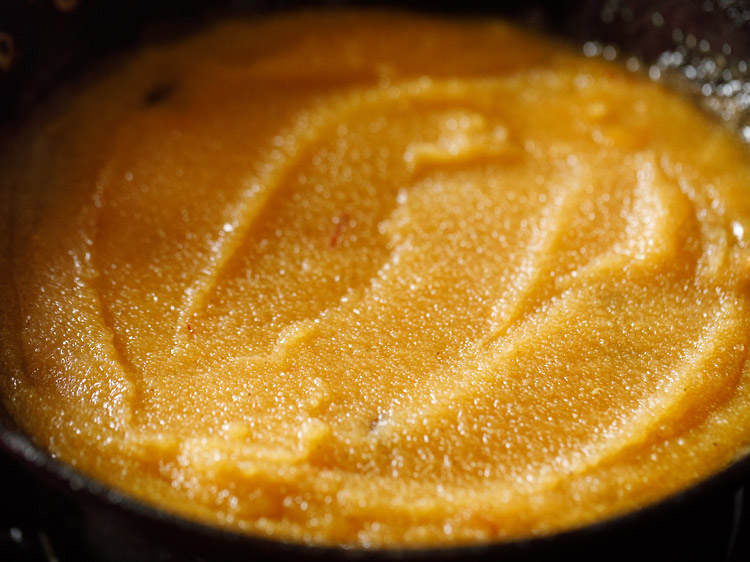 31. Stir till the mixture releases some ghee and the rava has absorbed all the water and cooked well.
Also, you should not see any whitish or creamish tiny specks on the rava. If you see, then this means that the rava is still not cooked well.
Steam Kesari
32. Turn off the heat and cover the pan for 5 minutes, just to allow the Kesari to steam.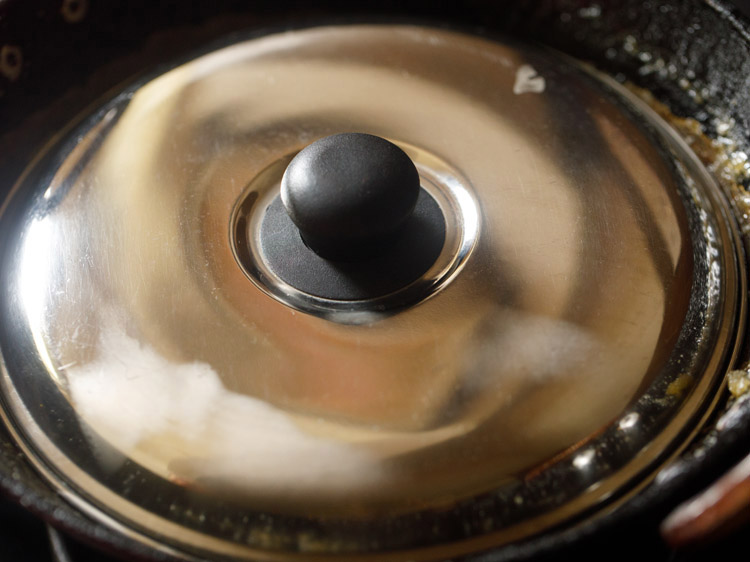 33. After 5 minutes, remove the lid and give a stir.
If you want to make slices, then immediately pour the Rava Kesari in a steel pan or tray. Spread evenly and when warm or cooled, cut into diamond-shaped or square slices.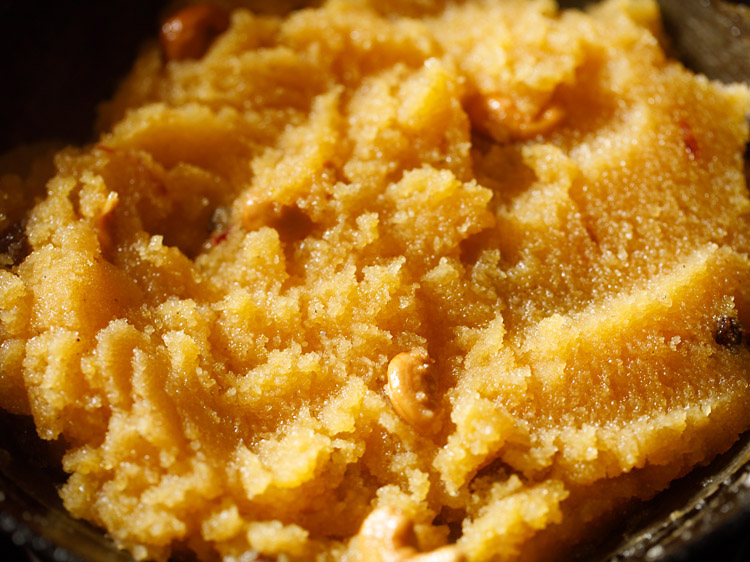 34. Serve Rava Kesari hot or warm. Garnish with the reserved fried cashews and raisins, while serving. You can also serve it as a sweet dish.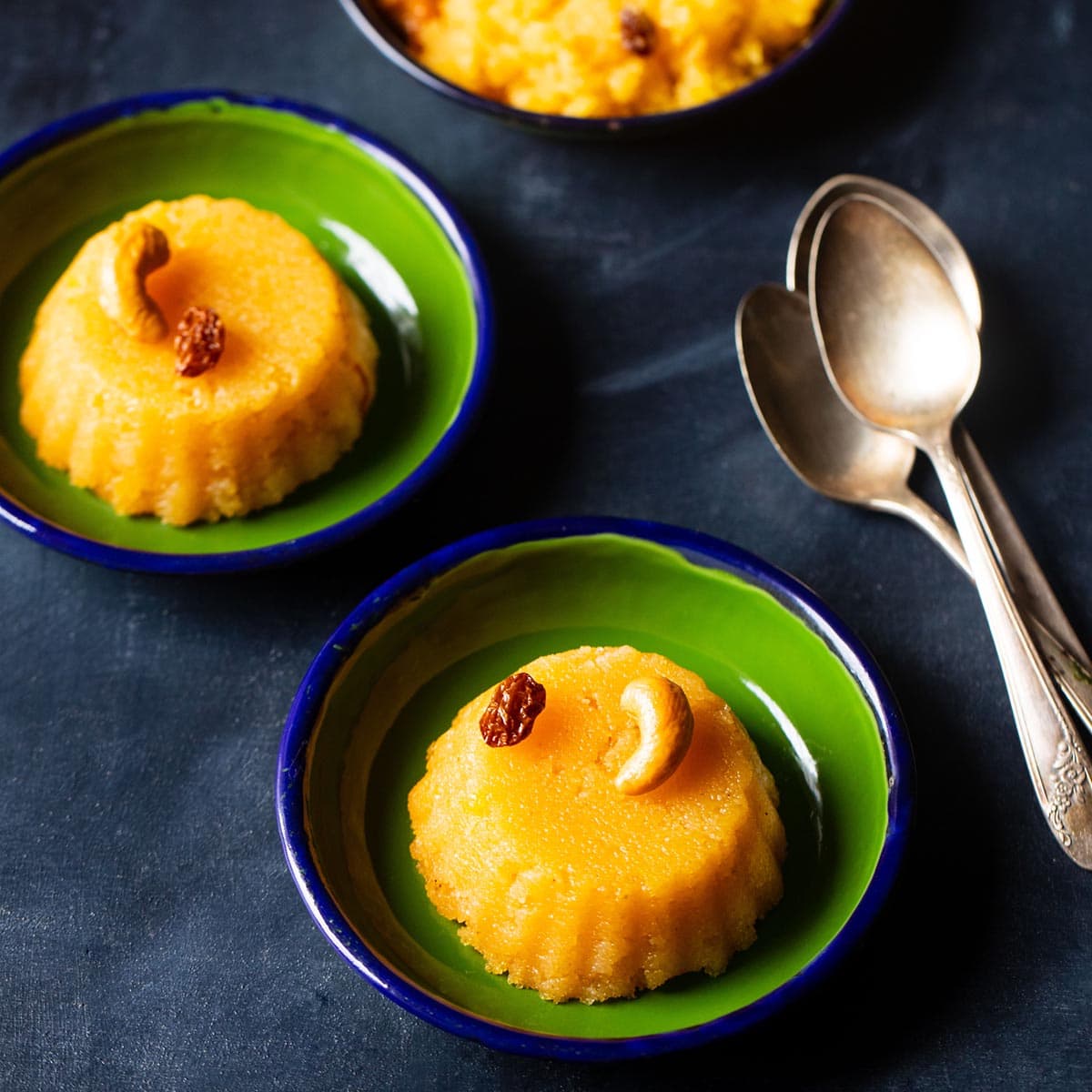 Serving Suggestions and Storage
You can prepare the Rava Kesari Recipe and relish it hot or warm. Garnish with a few of the reserved fried cashews and raisins, while serving.
It can also be served as a sweet dish. You can eat it as-is, without any sides. Store leftovers in a covered container in the refrigerator for 1 to 2 days.
Reheat in a skillet or frying pan by gently sautéing it or steam for a few minutes in a pan adding water as needed.
Kesari Variations
Using the basic Kesari Recipe, many variations are possible. Add milk and you get the lovely milk kesari. Include mixed fruits or just one type of fruit and you get a nice fruity flavored version. Some more experiments that can be done with this base recipe are:
Pineapple Kesari: A delish version made with chopped fresh pineapples. The pineapple gives a nice sweet tangy bite in the dish.
Mango Kesari: During the mango season, you can try a version made with sweet or ripe mangoes.
Semiya Kesari: This variant is unique as it is made with semiya or vermicelli. Thus, due to the addition of vermicelli, the texture and taste is very different.
Expert Tips
Type of rava: Use fine rava like Bombay rava or chiroti rava for a melt-in-mouth texture. If you live outside India, look for cream of wheat or fine semolina. You can also buy the rava or sooji online, or opt to use packaged roasted rava. Make sure that the rava is roasted well. Sometimes, readymade roasted rava is not properly roasted.
Roasting rava: Remember to roast the rava very well. This step is important because if not done well, you will not get the perfect texture in the dish. There will also be a slight raw taste. Stir frequently while roasting rava, for even cooking. The rava will release ghee once it is roasted well and have a nice toasted fragrance too.
Liquids: You can use milk instead of water. This makes the dish richer. Use same quantity of milk as the quantity of water mentioned in the recipe. You can also add equal proportions of water and milk.
Adding liquids: When adding the sugar solution to the hot rava-ghee mixture, make sure that the sugar solution is bubbling hot. So, you have to cook them simultaneously. Add the sugar solution slowly and carefully as the rava mixture splutters.
Proportion: To get a soft, nice texture dish, the proportion of rice and water to be used is 1:2.5 for both rava and water, respectively. You can even add 3 cups water, which gives a slightly moist dish. If your rava is coarser then also add 3 cups water.
Nuts: The quantity of nuts and dry fruits can be varied and can be of your choice. But traditionally, cashews and raisins are added.
Vegan option: To make this recipe vegan, replace the ghee with a neutral flavored oil.
More Halwa Recipes To Try!